Posted by: Skin And Cancer Institute in Uncategorized
What could be a greater gift to yourself this holiday season than laser hair removal? At the Skin and Cancer Institute, you'll get smooth, hairless skin—without tweezing, waxing, or shaving. And, it can be done anywhere on your body (face, underarms, chest, back and bikini area). You name the body part and our lasers can remove the hair.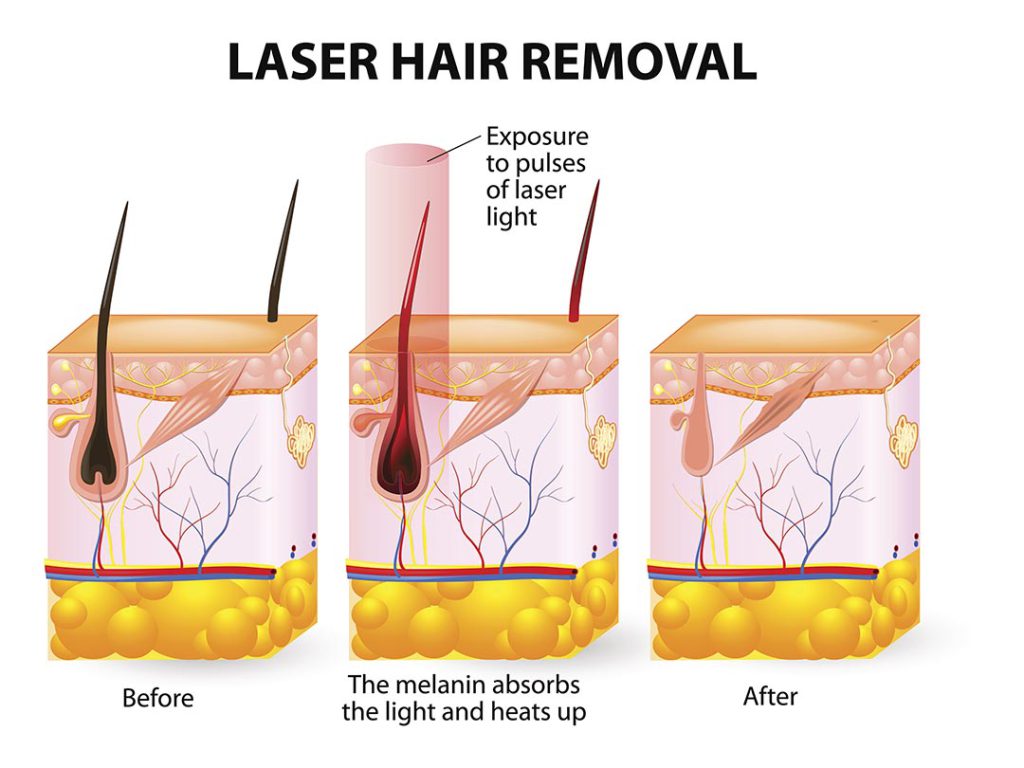 What is Laser Hair Removal?
Laser hair removal destroys hair and is one of the most common cosmetic procedures in the United States.
How Laser Hair Removal Works
Laser hair removal kills hair follicles with concentrated light energy. The skin pigment is exposed to pulses of laser light. This melanin then absorbs the light and heats up and destroys unwanted hair.
How Do You Prepare For Laser Hair Removal?
Let your hair grow freely for six weeks before your procedure. This means no tweezing, waxing, shaving, etc. You want that hair root intact so the laser can target it during the procedure. Also avoid sun exposure before and after laser hair removal because it can make the procedure less effective.
How Long Does Laser Hair Removal Take?
The laser machine can treat an area about the size of a soda bottle cap at one time. It's a fast procedure, especially for small areas like the upper lip, which only take a couple of minutes to treat. But larger areas–like the back–can take up to an hour.
How Many Laser Hair Removal Treatments?
You'll notice less hair after your first session, but it takes many sessions to completely remove the hair. It takes about six treatments to remove all the hair from the chosen area.
Does Laser Hair Removal Last Forever?
Yes, laser hair removal is permanent but keep in mind that it can take three to seven sessions to achieve this.
Average Price of Laser Hair Removal
The American Society of Plastic Surgeons estimated that (in 2020) laser hair removal cost an average of $389 per session. But the price varies depending on factors like:
The size of the treatment area
Number of treatments required
The provider's credentials
Is Laser Hair Removal Painful?
Your dermatologist will apply a topical numbing cream to dull the sting of the light pulses. This cream helps you feel less and relax more during the procedure. It takes about 30 minutes for the cream to numb your skin.
Take Away
Laser hair removal is the perfect thing to gift yourself this holiday season. It works by killing hair follicles with concentrated light energy. You'll need to prepare six weeks ahead of time. Avoid hair removal leading up to your procedure. Also, avoid the sun before and after you get your hair removed with a laser. The laser works quickly, and takes just a couple of minutes for a small area and about an hour for a larger area of hair. You'll need between three to seven treatments to remove all of the hair from your chosen area. The average price for laser hair removal is $389 per session. It's extremely effective, non-invasive and your dermatologist will apply a numbing cream to dull the sting of the light pulses.
Laser skin removal is permanent, so it's the gift that keeps on giving! Ready to begin your journey to less body hair? Schedule a consultation today to see what the Skin and Cancer Institute can do for you.
---