Skip to main content
Skip to footer
All Services
Telederm
Get seen by our dermatology specialists from the comfort of your home. Only available in California, Nevada and Arizona.

Book Now
Online Dermatology Appointments
Complete an online consultation for a quick evaluation.
1. Sign Up
Describe your skin issues so we can provide you with the best treatment options.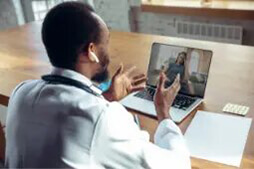 2. Virtual Consultation
Our provider will discuss your condition through video chat and will provide you with a treatment plan and prescriptions as necessary.
3. Get Medications
Curbside pickup is available or you may choose to have medications mailed to your home.
Telederm Cosmetic Procedures
Many dermatologic conditions can be assessed online from the comfort of your own home via our Telederm services. While some cases may require further treatment in person, most common skin, hair, and nail issues can be assessed and treated virtually. This includes things like acne, rosacea, eczema, rashes, warts, and unidentified moles. Schedule an appointment below to meet virtually with a Skin and Cancer Institute dermatologist.
Live Video Consultation
Free delivery of prescription medications to your home.

Make a Telederm Appointment
Schedule a date and time that is convenient for you to meet with one of our seasoned providers.
---
Join Televisit
Our provider will meet with you online through video chat to diagnose your skin condition, answer your questions, and provide you with a treatment plan and medications if necessary.
Advantages
Common Skin Conditions We Diagnose & Treat
We diagnose and treat all skin conditions, from the common to the complex.
Atopic Eczema
Contact Eczema
Psoriasis
Rosacea
Pityriasis Rosea
Lichen Planus
Ringworm (Tinea Corporis)
Athlete's Foot (Tinea Pedis)
Impetigo
Herpes (Oral or Genital)
Shingles (Herpes Zoster)
Common Warts
Genital Warts
Molluscum Contagiosum
Scabies
Insect Bites
Skin Cancer
Basal Cell Carcinoma
Squamous Cell Carcinoma
Actinic Keratoses
Melanoma
Seborrheic Keratoses
Angiomas
Melanocytic Nevi (Moles)
Androgenetic Alopecia
Alopecia Areata
Hirsutism
Paronychia
Canker Sores
And More